Sponsorship Opportunities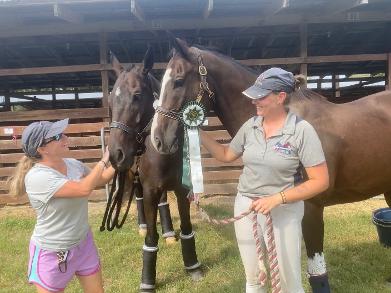 Keeping international level event horses and trying to qualify for these competitions requires more funding than Emily is able to provide for herself. Maintenance of upper level event horses is expensive and they have to sustain a high level of fitness in order to do their best. Time, effort, and money are required to obtain these goals. Emily is a very determined individual that will undoubtedly put time and effort into her goals, but she needs your help financially.
Budget

On average it costs around $30,000 a year to keep one horse. Below is an annual budget for keeping one upper level horse:
Board (Feed & Care): $800 a month/$10,000 a year

Farrier Services: $1,000 a year

Vet Services: $2,500 a year

Competition Fees: $5,000 a year

Trailer and Truck Maintenance: $1,500 a year
88,000,000 people attend horse-related events

The average home value is $594,000

22% own a second home

43% travel on an airplane more than 16 times a year

78% are members of a frequent flyer program

97% own one or more credit cards

55% of their automobiles were purchased last year

They own three vehicles; 53% own a pick-up truck

94% own a pet besides a horse or pony

The average age is 39

85% are women

63% are married

80% of equestrians have a minimum of a four-year college degree
According to USA Equestrian 2008
Any support whether monetary or product are greatly appreciated. All investments are used exclusively for care, training, and competition. If you are a business looking for sponsorship opportunities, there is a significant amount of advertisement associated with horses competing at the upper levels of this sport. Emily travels to many competitions all over the Southeast (LA, TX, OK, MS, AL, GA, TN, KY, FL), therefore your company can benefit from this exposure to the event world. Everyone from competitors to spectators will see your logo associated with a talented event rider.
Personal Sponsorships
In addition to corporate sponsors, personal sponsors are always valued. We can't adequately express our appreciation for your generous contribution that would allow Emily to take another step towards her goals.
You could also be a whole or part owner of a horse that Emily will train and compete. If a sales horse is something you are interested in there is a profit sharing benefit! There are 2 options when talking about horse ownership
Option 1: Purchase a decided horse (whether one of the sale horses currently available through our program or an outside horse that is found for this purpose) and pay all costs of shows/farrier/board/vet. ERE will contribute the costs of training, advertisement, showing to clients, etc, and when the horse is sold the partner would recoup the initial investments, and we split the profit. This works well for someone who would like to possibly purchase the horse for themselves after the training process, or is interested in opportunities with several nice young horses.
Option 2: Syndication - Putting together a team to purchase a horse with the intent to bring it through the levels and sell the horse as it progresses. This spreads the risk through an few individuals, instead of personally. A great opportunity to participate in bringing a talented horse along, and all the benefits of horse ownership without the individual risk.
*Investments can be annual, bimonthly, or monthly
Depending on amount of sponsorship, any or all of these things would be available
Banner on stall at events (when stabling)

Business Logo on saddle pad for competitions

Business Logo on hats, polos, anything Emily wears at competitions

Large sign on trailer

20% discount on lessons with Emily

Private course walks with Emily at competitions

ERE logowear

Monthly newsletter

Use of Emily and her horses for any advertising

Ad space on

http://www.eliterhythmeventing.net

Profit sharing if a horse you own is sold
Contact Emily for information on becoming a sponsor